2020's most popular dog names show that the pandemic is making people go insane – Austonia
Pets
Every morning, we send you a free email packed with Austin news, business, and entertainment. Join 16,000+ readers who wake up to Austonia's newsletter.
Headlines from 2020 will be an indelible stain on our collective memory for years to come. They will also be reflected in the names of newly adopted puppies, a report shows.
"Corona" might soon be heard shouted in Austin dog parks, alongside names like "Rona" and "Covi," which has reportedly seen a 1,159% increase in popularity over the past year. "Fauci," following the name of the nation's top medical official, has emerged for the first time.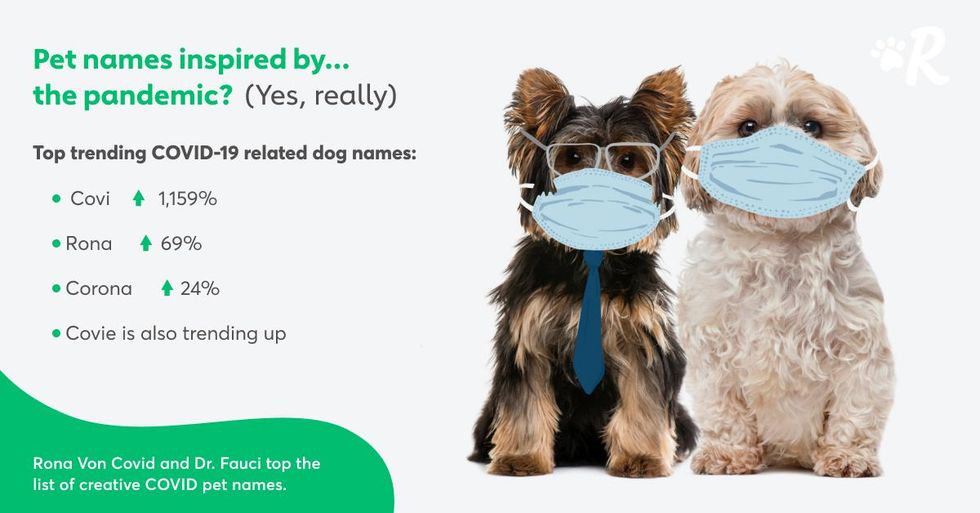 These details come from Rover, which just released their report on 2020's most popular dog names. The popular pet services network, which ties together pet sitters and walkers, pulled the results from their database of more than one million pet owners.
A year of feverish binge-watching cast a long shadow over the list, as names like "Geralt," from Netflix's The Witcher, rose up in popularity by 9,308% to become the nation's number one trending dog name.
"Mando," from the Mandalorian on Disney+, isn't far behind. "Carol" is up too, named after the anti-hero of the early pandemic's mind-numbing spectacle "Tiger King," Carole Baskin.
Zooming in, the site also has a listing for the most popular dog and cat names in Austin.
Austin's top trending names for dogs included "Zella," "Chunk" and "Patsy."
And even as many Austin bars remained closed, Austin evidently still likes to drink—and name their dogs accordingly. "Kahlua" has risen by 88% in the Texas capitol, trailed by "Brandy" at 36% and "Hooch" at 23%.
The city's long connection to country music was apparent as well, with "Patsy" trending up for dogs, while "Dolly" trending with cats.
Of course, these are just the trendy names. "Luna" and "Max" still hold supreme for Austin's dogs overall.
When Facebook first came to Austin in 2010, it had just over a handful of employees based here.
Now, after a surge in the Austin employee headcount, the acquisitions of Instagram and WhatsApp and a name change by its parent company to Meta, preparations are being made for its most striking local office yet.
A drone video taken by Austonia shows the building Meta will occupy, Sixth and Guadalupe, is well into the process of rising up to its full form as a contender for the tallest building in Austin if a 74-story project at 98 Red River St. doesn't beat them out. Once it's completed in 2023, it'll have 589,112 square feet of office space and nearly 350 units of residential space.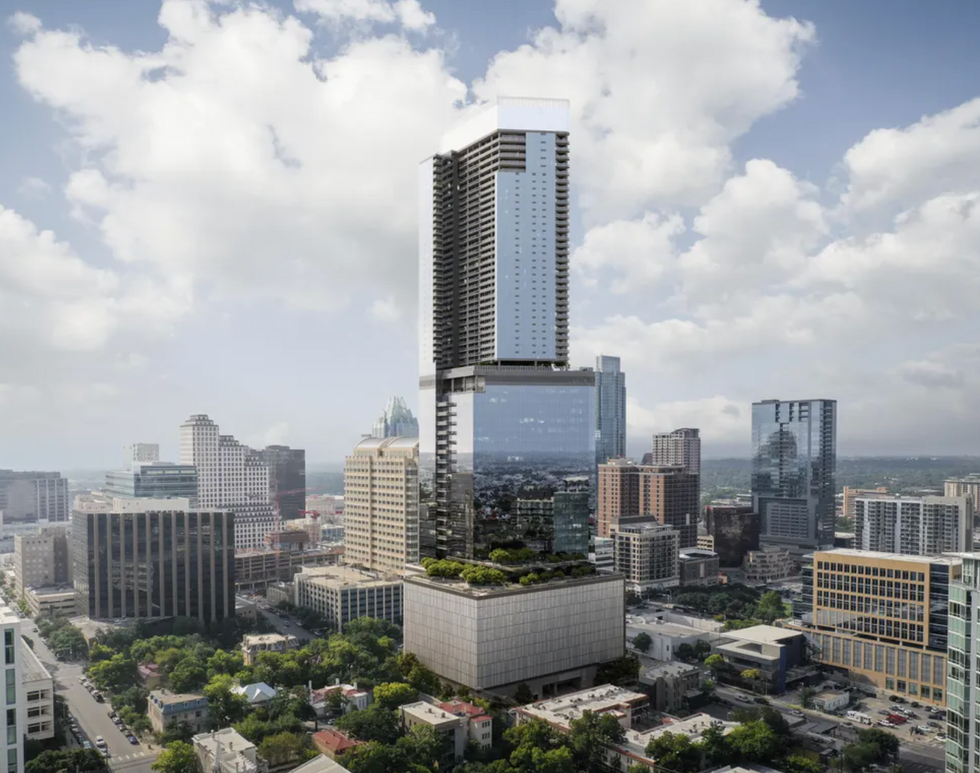 (Gensler)
Ed Muth, Gensler principal-in-charge of the project, says it's one of those buildings that only comes along every so often.
"However, it seems like in Austin, we have more and more of them that continue to happen," Muth said. "But this one is very special for us. It's a combination of three or four building types together with the parking garage, the office and the residential piece all with a ground-level that has retail in it and everything else that makes the building function."
All these pieces coming together are captured in real-time with a camera documenting the building's ascent.
A fan cam for the construction process is fitting for a tower poised to be 66 floors. But Sixth and Guadalupe is more than just its height.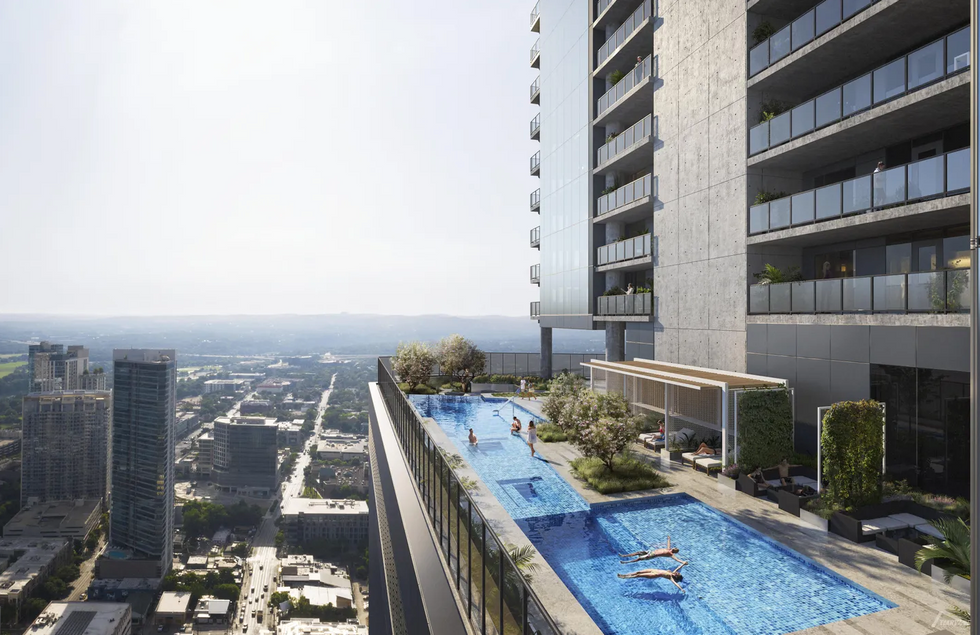 "At the end, you get great views out of the residences and the office space is just incredible because of the floor plate size and just the convenience in downtown," Muth said. "I don't know that there's anything like it or there will be like it for a while in the marketplace. This is gonna set the standard."
(Shutterstock)
PORT ARANSAS–This is not Hilton Head or Palm Beach, with white tennis shorts and BMWs at the CVS. It's quintessentially Texas, a beach where F-350s line up at the town's three stop lights, and kids from Amarillo stare slack-jawed at "the ocean" for the first time.
Now Father's Day and the 4th of July approach, and a string of 100-degree days lurk ahead in Austin. Here's our survival guide to Port A.
The average July high in Austin is 95 and in Port Aransas 90.3.
Cars lined up on the beach during Memorial Day weekend. (Rich Oppel)
Driving from Austin, the trip is 200 miles or more. That can take four to five and a half hours, depending on time of day and route. Three strategies:
On the way in, refill your tank at the H-E-B in Aransas Pass, cheaper by a quarter a gallon than any fuel you'll find on Mustang Island.
(Rich Oppel)
As you drive through South Texas you will see fields of pump jacks and wind turbines as well as fields of corn and soybean and red brangus ranches. Near the Port A ferry, huge turbine blades made in Europe are stacked high. This is a working port, but it is fast-changing.
(Rich Oppel)
Our favorites are the Venetian Hot Plate, Roosevelt's, Tortuga and Fins. For a cheeseburger, fries and a beer with a Gulf view, the Beach Lodge. There are 60 restaurants on Mustang Island, and the lines are long in the summer. Get there early or late, or order takeout–which is available at many places. Make reservations at the high-end places. Dress is casual. Anyone with shoelaces is way overdressed.
Port A has gotten expensive since huricane Harvey. Labor costs are skyrocketing because waiters, cleaning people and store attendants can't find affordable housing on the island. If you haven't been there in a few years, expect sticker shock.
---